For a list of FAONS member societies and contact details, please go to the About FAONS page.
Member Societies
Adhi Wibowo Nurhidayat, MD, MPH
Indonesia Neuroscience Institute, Jakarta, Indonesia
email: adhinur@indoneuroscience.org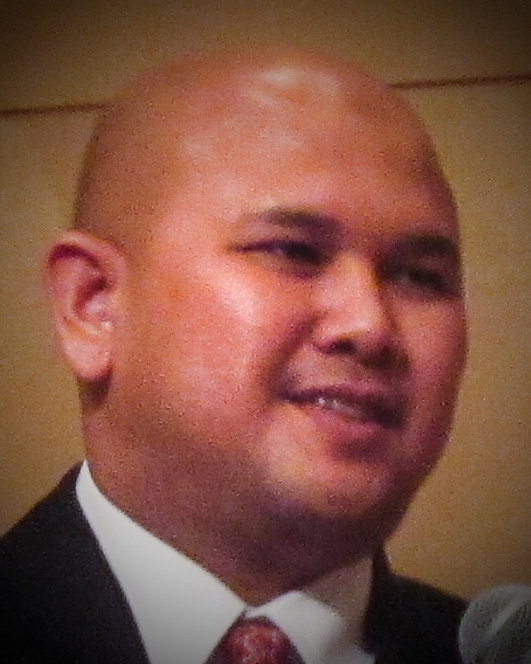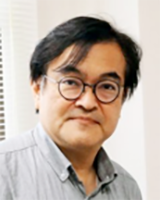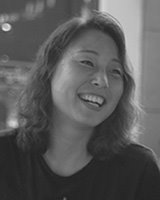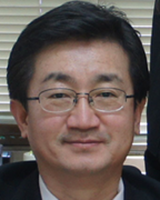 FAONS President

Latest News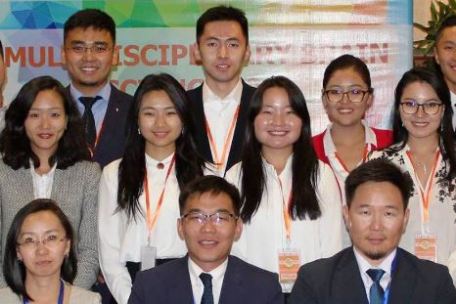 Hosted by the Hong Kong Society of Neurosciences, the School will be based in the School of Biomedical Sciences at the Chinese University of Hong Kong on July 2 - 14, 2017. Application deadline is April 1, 2017.  Click here for more details.
It is our pleasure to have Mongolian Neuroscience Society (MNS) joining FAONS as one of the member societies. MNS is an academic non-profit organization, founded in 2014 in Ulaanbaatar, which is aimed to develop neuroscience in Mongolia and represents this field of science in abroad.
FAONS
The purpose of the Federation is to promote the advancement of neuroscience research and education in the Asian Oceanian regions, which include Asian countries, Australia, New Zealand and Islands in the Pacific and Indian Oceans. The Federation shall aim also at contributing to the advancement of neuroscience worldwide.
The FAONS Congress and FAONS Symposium are typically organised on an alternating 2 year cycle by representatives from a Neuroscience Society that is a member of FAONS.
The position of FAONS President on the FAONS Council is assumed by the President of the Neuroscience Society that is hosting either the Congress or the Symposium.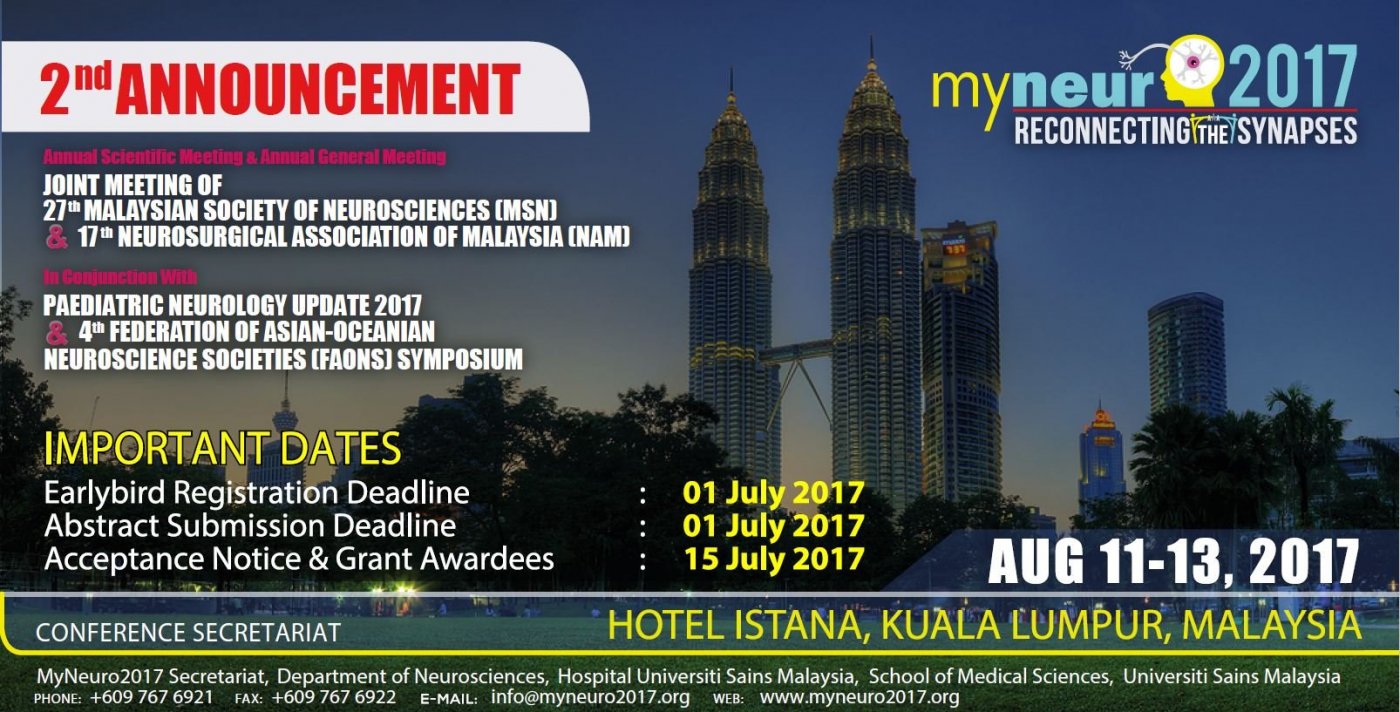 Joint meeting of the 4th Federation of Asian-Oceanian Neuroscience Societies (FAONS) Symposium and the 27th  Malaysian Society of Neurosciences (MSN) & the 17th Neurosurgical Association of Malaysia (NAM)
in conjunction with Paediatric Neurology Update 2017.
Download our flyer here.
FAONS President: Adhi Wibowo Nurhidayat, MD, MPH (Indonesia Neuroscience Institute, Indonesia)
FAONS Treasurer: Prof. Tadashi Isa (Graduate School of Medicine & Faculty of Medicine, Kyoto University, Japan)
FAONS Secretary: Dr. Sung-Jin Jeong (Korea Brain Research Institute, South Korea)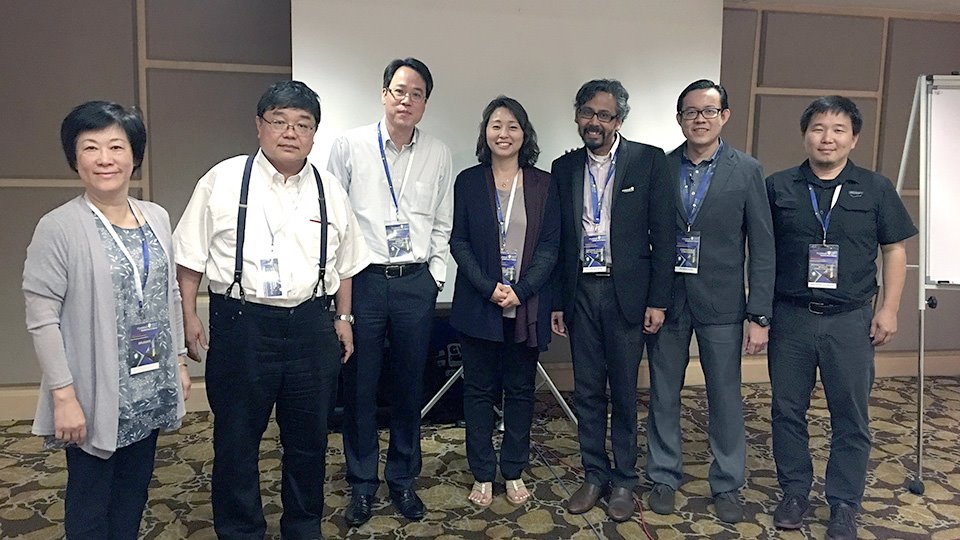 We are happy to announce new members of the FAONS Executive Committee as follows:
New Year Message from FAONS President - 2021 -
Jakarta, 31 December 2020
Dear all,
As we count down to the new year, we get to reflect and prepare for what's ahead.  2020 became a difficult year due to COVID-19 pandemic.  This pandemic has brought death to all walks of life, all races and all the continents.  I ask you to remembering all victims, those who have died in the pandemic, and also those who have affected by COVID-19 in their life.  Concerns have been raised regarding what's best about our life and humanity, so it is a time that gives us the opportunity to honor the sarcrifices and hard works of all scientists and health workers worldwide. 
And while this year was difficult for many of us, we must hope that brighter days are ahead of us.
Let me take this opportunity to thank all FAONS member societies, who tirelessly worked on scientific works with many obstacles and difficulties due to COVID-19.  Your work is hugely appreciated, and FAONS would not be the same federation without your effort and enthusiasm.  As you may know, Council members agreed to postpone the Bali Symposium to 2022 due to this pandemic.  We will continue promoting the advancement of neuroscience research and education in the Asian Oceanian regions, as well as contributing to the advancement of neuroscience worldwide
On behalf of FAONS Executive Committee Members, I send the warmest wishes to all member societies across these regions.  Happy holidays to all of you, wishing you happiness and good health during the 2021 New Year!
Adhi Wibowo Nurhidayat
FAONS President

The ALBA Network is an international initiative that promotes equity and diversity in brain sciences. As part of a global webinar series on region-specific diversity issues, the ALBA Network is holding an online panel discussion focusing on South-East Asia: Diversity in brain research in East & South-East Asia: a gender perspective.

Despite recent progress, the East & South-East Asia region's record on gender equality is still falling short. Stereotypes continue to limit women's equal participation in brain research, especially at senior levels. This webinar aims to highlight the various issues linked to gender in brain sciences in the region and to discuss possible paths to equity.
I would like to kindly invite you to join this webinar on Tuesday 11 May 2021 at 4 pm CST / 5 pm JST / 10 am CEST.
Please find information about the event below.
Further information on the event can be found on the ALBA website: http://www.alba.network/webinar-SEA-gender
Registration is free but compulsory, you can register here:  https://zoom.us/webinar/register/WN_rueSu9_LR5mRTKFmlAU0iA
We encourage you to share this invitation with your colleagues and on social media.